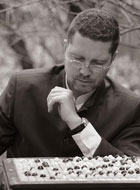 Individuality is the main achievement of European civilization.
We are playing Go, not like the common people. We created Go Federation at our home country,
in Russia in 2004. We made it, because there is a big difference between our Federation
and other Go federations and communities around the world.
We changed our life a lot, after we started to play Go.
Go gives us different possibilities to use in the real life.
We are the members of Go family – the family of amateurs and Go masters.
I am glad to say, that this newsletter, with Mr. Alexandre Dinerchtein,
as the editor in chief, gives us new ideas.
By reading this newsletter, we will get a chance to make acquaintance with each others,
and I believe that you will not be disappointed of it.
Somebody asked me: "What is the goal of this newsletter?"
I answered: "What is the goal of playing Go? To win the game?
For me it's a pleasant journey. The same as the newsletter".

Igor Grishin, The President of Go Federation (Russia, Moscow)
January 2006